Cisco Partnership.

Decades of History.
Veytec's 40-year history is rooted in helping clients securely pass information between sites, users and organizations. Naturally, we became one of the first Cisco Technology Partners in the Southeast. We've been a certified Cisco Partner since the late 1990s, and we have continued to grow our capabilities and partnerships over the past two decades.
Today, we run our own firm on many of the solutions we provide to clients on a daily basis. We understand the need to trust your platform, have organized reports, and be prepared for security threats. Clients are welcome to visit our Cisco lab and data center any time to take a tour.
By focusing our business practices on Cisco's solutions, our operations and engineering staff have expertise and experience across all major architectures. This approach with a strategic partner is unique and it allows us to provide your team with options throughout your organization.

Cisco Certifications and Specializations
Veytec is committed both to Cisco and our clients to maintain the highest levels of training and specialization on the services and solutions we provide. We are proud to carry the below Cisco specializations:
Advanced Collaboration Architecture Specialization
Advanced Data Center Architecture Specialization
Advanced Enterprise Networks Architecture Specialization
Advanced Security Architecture Specialization
Advanced Customer Experience Specialization
Cisco Hyperflex Specialization
Cisco Umbrella for MSSPs Specialization
Cisco Unified Contact Center Express Specialization
Cisco Webex Calling (Cloud Calling)
Cisco Webex Contact Center Specialization
Cisco Collaboration SaaS Specialization

Cisco Advanced Customer Experience Specialization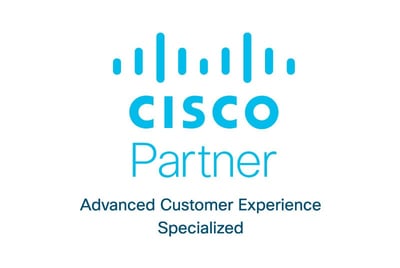 In 2021, Veytec became one of the first 20 US Cisco Partners to reach the "Advanced CX Specialization" level. In doing so, our Customer Experience team was recognized as being at the top of this profession, in helping our clients find a way to maximize their investments in IT solutions and services.
Veytec's Cisco Customer Experience Specialization shows our commitment to delivering the smoothest possible process to our customers. Our staff takes a comprehensive approach when working with clients. From problem identification or project scoping through ongoing support, we pride ourselves in organizing the right solutions and resources over the course of our relationship with our clients. We take the time to understand our clients' needs, discuss options and find the best solution. Then, we stay on as their team to help implement and maintain the new service.
Veytec customer service. Learn more about what our commitment to CX means to us.
Learn more about our commitment to customer experience.

Get
Started.

Fill Out the Form Below to Speak with a Cisco Certified Engineer